Last weekend, I headed out to the library to get three books for the husband and brought home an additional three books for myself. So much for my one book out at a time from the library rule. In my defense, two of those books were graphic nonfiction, which don't count, simply because one sitting is all I need to get through them, and then it would be pointless to keep going back and forth for the next three days. Not that a library visit is unpleasant.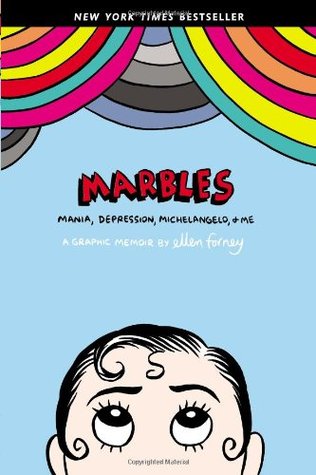 Marbles
: It certainly took a long time for this graphic book to show up at my library. Ever since I heard about this one a year or so ago, it has been on my wishlist. I am a fan of first person narrative stories by people who are suffering from a mental disorder. It's a strange thing to be a fan of - it is certainly unpleasant to be the one suffering, it's also rarely cheerful. Also, with books like that, it helps to know in advance that the narrative could be unreliable, at least some times.
Marbles
is about Ellen Forney's struggle with bipolar disorder and how she started off feeling like it was not something she wanted to address to how she has learned to control it and want it gone.
Anatomy of a Disappearance
: Hisham Matar has been on my must-read list for a long time, ever since I started blogging. I didn't know much about his books except that the reviews I read always sounded so good that I had to read the book. I am about a quarter of my way in and while it is quite intriguing, it is also not living up to the hype I had raised it to. The book is however very atmospheric and it is hard not to want to visit Geneva and Cairo after reading this book.
Calling Dr. Laura
: There are a lot of novels dealing with adult characters suddenly finding out certain truths about their parents, sometimes even tiny details such as that they are still alive and not dead as previously thought.
Calling Dr. Laura
is Nicole Georges story of such a revelation. Coming across a nonfiction book with a premise like that makes the story several times more fascinating. I am even more intrigued that this is a graphic book!
What is on your nightstand?