I have been having a hard time reading anything at all this past week. I doubt it's a rut because I do want to read and happily pick up a book every evening. But, by the time I start reading, which is usually past 9.30 pm on a weeknight, my eyes are ready to shut. Most of my evening before bedtime tends to go into TV, cooking, resting (oh, that nasty back pain), and trying to plan my baby shopping. Hopefully, I'll have some of that shopping plan in order by this weekend, making next week at least a good one for reading. One can always hope. For now, these are the books I'm reading (or trying to read).
The House at the End of Hope Street
by Menna van Praag: I am in two minds about this book. On the one hand, I love love love this book. I feel the same way about it as I would about a book that is filled with literary characters or references. Except for a passing mention of Virginia Woolf, Beatrix Potter, George Eliot, and Sylvia Plath, there really are not many literary references in this book. So it's weird I feel that way. On the other hand, while there is a plot to this book (three women are trying to turn their lives around), it is a weak plot. The setting in the book, all the magical stuff that happens completely dwarfs the actual intent of the book. That's probably why I am not able to make much progress through this book, though I love every bit I read from it.
Distraught that her academic career has stalled, Alba is walking through her hometown of Cambridge, England, when she finds herself in front of a house she has never seen before, 11 Hope Street. A beautiful older woman named Peggy greets her and invites her to stay, on the house's usual conditions: she has ninety-nine nights to turn her life around. With nothing left to lose, Alba takes a chance and moves in. She soon discovers that this is no ordinary house. Past residents have included George Eliot and Beatrix Potter, who, after receiving the assistance they needed, hung around to help newcomers—literally, in talking portraits on the wall. As she escapes into this new world, Alba begins a journey that will heal her wounds - and maybe even save her life.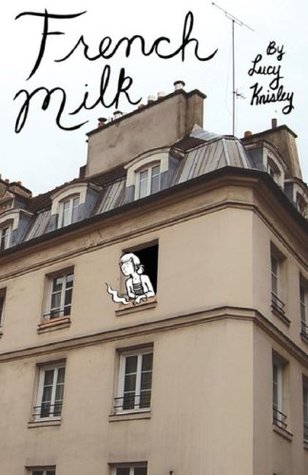 French Milk
by Lucy Knisley: When I borrowed
Relish
from the library, I also went and picked up
French Milk
. I loved
Relish
and have been meaning to start this since then. Considering that my reading was anyways going slow, I picked it up last night and promptly fell into the easy journalistic narrative style (in comics!) and the familiar writing? comic? tone of the author. It's probably (sort of) timely that I read this now. (Maybe a couple of weeks ago might have been even more appropriate.) Like Lucy, I spent some time learning French, or trying to learn, at least, before and during
my trip to Quebec
.
A place where young Americans can seek poetic magic in the winding streets of a beautiful city. The museums, the cafes, the parks. An artist like Lucy can really enjoy Paris in January. If only she can stop griping at her mother. This comic journal details a mother and daughter's month-long stay in a small apartment in the fifth arrondissement. Lucy is grappling with the onslaught of adulthood. Her mother faces fifty. They are both dealing with their shifting relationship. All the while, they navigate Paris with halting French and dog-eared guidebooks.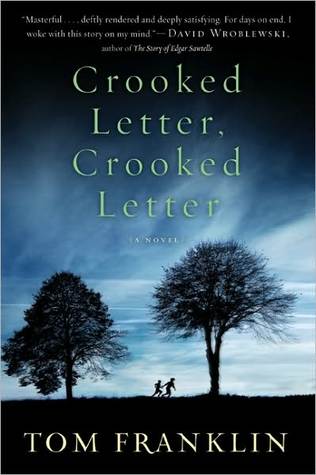 Crooked Letter, Crooked Letter
by Tom Franklin: Ever since this book was released, it has been on my radar - just not high enough on my want-to-read meter. Since I had just finished listening to an audiobook yesterday, I was wondering what to pick next - I had three nonfiction books on my audible account waiting to be read, but I was looking for something fictional for a change. Having chanced upon this one on my library's list, I figured it was finally time for me to read it. We'll know soon whether all the wait was worth it.
In the late 1970s, Larry Ott and Silas "32" Jones were boyhood pals. Their worlds were as different as night and day: Larry, the child of lower-middle-class white parents, and Silas, the son of a poor, single black mother. Yet for a few months the boys stepped outside of their circumstances and shared a special bond. But then tragedy struck: Larry took a girl on a date to a drive-in movie, and she was never heard from again. She was never found and Larry never confessed, but all eyes rested on him as the culprit. The incident shook the county— and perhaps Silas most of all. His friendship with Larry was broken, and then Silas left town. More than twenty years have passed. Larry, a mechanic, lives a solitary existence, never able to rise above the whispers of suspicion. Silas has returned as a constable. He and Larry have no reason to cross paths until another girl disappears and Larry is blamed again. And now the two men who once called each other friend are forced to confront the past they've buried and ignored for decades.