Every summer, Rose and her parents stay at a lake house in Awago Beach. Once there, Rose and her friend, Windy, who also visits there with her mother and grandmother, explore the Beach and spend a good amount of time swimming, shopping, or watching movies. Except this time, things aren't going to be quite as fun as Rose wants it to be. Her parents have been fighting, her mother has not been getting along with some company, and Rose has been a little too interested in one guy at the only store at the beach.
I had mixed reactions to
This One Summer
. On the one hand, I really enjoyed the story. Rose is at that age when she is extra sensitive to triggers around her. When a girl comes to the store crying about something, she and Windy go to great lengths to find out what the deal was. When her mother starts behaving strangely, she worries that she could be part of the problem. And Windy being an exuberant and lively character, Rose struggles to share anything with her because the two girls truly are opposites. There is a lot of teenage angst in this book!
While the story itself was engaging, I wasn't much a fan of how it was executed. There were occasional leaps in the story that I found disconcerting - as if a panel or two was missing in between. Unlike most other readers of this book, I wasn't a fan of the artwork. I think I didn't like the overwhelming blue of the illustrations - they worked great for drawings set at night, but for others, they appeared somewhat whitewashed. I'm probably in the minority though - many others have loved this book, so you may enjoy it too, if you haven't yet read it.
---
French Milk by Lucy Knisley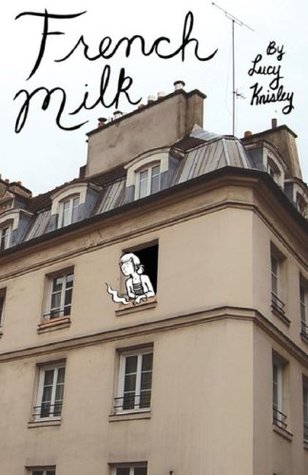 French Milk
is an account of the trip that Lucy made to Paris with her mother during January of 2007. There they rented a small apartment which smelled of something nasty and had strange and imposing decor in most rooms.
Just like
Relish
,
French Milk
is not a book with any kind of plot. With their minimal knowledge of the French language, this mother-daughter duo headed to Paris to live among the locals and experience the food and delights of this wonderful city. Lucy's father also visits them for a few days to celebrate Lucy's birthday and enjoy some of the French cuisine.
What I found most interesting about this book was that it felt like a genuine unedited journal. There were instances where she corrected what she mentioned a few pages ago. There were also random squiggles and scribbles to give it an informal feel.
There were also quite a few photographs included in the book, which I loved! It's always nice to see real people in books.
Overall though, I was a little disappointed by this book. It is as charming as
Relish
- you can see the same narration and illustration style but the idea of the book is itself what felt flat to me.
French Milk
is more a travelogue with no real plot or direction than a book that gave you any a-ha moments. It will probably appeal a lot to those who have been to France or live there, or someone about to visit this country, but if you're looking for some takeaways (other than details about the French experience), this book may not work too well.