This week...
This has been one crazy week, so much so that I was very surprised when Thursday rolled around and then Friday. And of course, it's Sunday already because the weekends go by much faster. I had been having a somewhat uneventful week at work for the first first couple of days but then many big things came up together that swamped the rest of the week. I still have some more work to finish before tomorrow, so I'm going to have to spend some time today on getting that in order.
One good aspect of having a week that flew by is that it IS already Sunday and the husband will be back tonight from his short India trip. This time, it was a lot easier being by myself than it was in December because I am not sick anymore (I could barely eat anything in December), the weather is wonderful and cheery, and there is a lot of motivation to do a lot from my self-imposed list of "stuff to do before the baby comes".
The baby update...
I spent a huge chunk of yesterday building our baby registry. I had been tinkering with it for a few minutes every once in a while for the past month but it wasn't getting anywhere. What's worse is a lot of the items look like stuff you can easily live without but many still recommend it as the most useful thing they ever got. I'm trying to be extra mindful, especially since I'm still in a decluttering phase and don't want to buy something I may use for a month or two, only to watch it get relegated to the donate box. This is hard work. But I'm 28 weeks now and I better get this thing going while I still have the energy to do a lot of tedious work.
Last night, I went for a one-year old's birthday party and with all the kids running havoc at the venue, I did get a scary reminder of how much life is going to change. I do get that moment every once in a while though most of the time, I am excited and looking forward to it. Not helping at all was all the oodles of advice and tips I got from other mothers - all good advice, of course - but still it's stuff that's new to me and I don't have much to compare with, unless you consider having a dog as a lot of work, which it is, but it becomes your life and they are creatures of routine so everything is predictable.
Reading...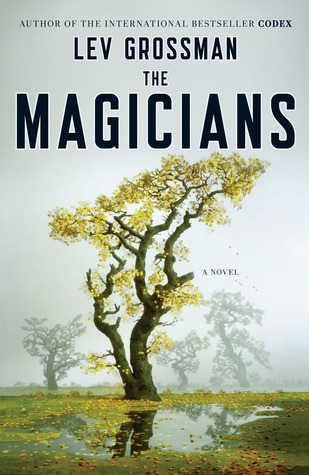 I'm still reading
The Magicians
. I imagined I'd zoom through the book, much like how I read each of the Harry Potter books, but either I must be getting old or books don't do the same thing to me or this book just wasn't the kind. With all the work I had this week, I was mostly tired in the evenings. Couple of evenings, I pretty much dozed off in the living room with the book on my lap.
Are you doing the readathon next week? I'm still undecided but likely won't. I have penciled in some chores for next weekend that just need to be done so reading probably will end up getting slotted for bedtime. It's been a long time since I did a readathon. The first time I participated, I was still at grad school - my roommate also joined in and we had a lot of fun reading through the night. I wanted to do one before the baby comes and I may still try and do it another weekend, but night-outs are certainly out. I'm still going to see how I can get a mostly reading weekend next week, in which case, I may try to get in on the readathon bandwagon.