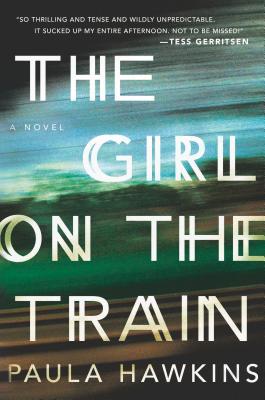 He never understood that it's possible to miss what you've never had, to mourn for it.
By now, everyone must have heard about this book, if not actually read it. This book had a long waiting list and I wasn't initially keen on reading it. But there are only so many conversations you can join without saying you didn't read this book. Besides, over time, I began to get curious about the plot.
The Girl on the Train
was okay. Not great, and when I finally closed the book, I thought the plot was very silly and fabricated. Although I somewhat enjoyed the ride through the book, looking at the full picture once I finished the book didn't make me very happy.
The Girl on the Train
is the story of two women. Rachel, the titular character, has been divorced for a few years but she is yet to move on. She has been an alcoholic even before she got divorced and oftentimes she forgets what she has been up to whenever she is drunk. Every morning, she takes the morning train to Euston and returns home by the evening train. During these train journeys, she obsesses over the residents of a certain house, whom she has named Jason and Jess. One day, she sees Jess doing something out of the ordinary but before she has time to dwell too much on that incident, Jess goes missing.
Megan has brought a lot of emotional baggage to her marriage with Scott - death of a family member, family estrangement, lots of past lovers, a shady past, and a horrible tragedy. She starts seeing a psychiatrist to help get over her anxiety attacks but things are not as they seem on the surface.
I wasn't a fan of this book going in. The first quarter of the book, which focused on building Rachel's character, lagged heavily. I wasn't intrigued by the writing either and considered abandoning the book. But once one of the characters went missing, the pace stepped up. The second half of the book was certainly more thrilling but the way everything was wrapped up felt too flimsy and lazy.
I certainly felt very sorry for Rachel, but it bugged me that she was painted as a very sorry character. She was yet to recover from her divorce - she would constantly pry into her ex-husband's life, visiting his house where he stayed with his current wife and daughter. She drank too much, didn't have much of a career, and made consistently poor decisions. Plus, I couldn't get why she had to be so obsessed with that couple. I didn't care much for Megan for a long time, until her tragedy was revealed. That put her whole story under a new light. There is a third woman who shares pages with the other two, in this book. Anna, Rachel's ex-husband's wife, is terrified of Rachel, who can be quite a spectacle when drunk.
Ultimately, I was disappointed with this one, but I was expecting that based on some of the reviews I have read. I'm not even sure if I am happy that I finally read it. Goes to show that reading something because it is hyped doesn't necessarily make you feel like reading it was time well-spent.
I borrowed this ebook from the good old library.