Good morning, Saloners! Last week saw a flurry of posts on my blog, thanks to it being
Armchair BEA
. I don't usually post that often, but it was really a lot of fun to write every day and check out what others had to say. I hadn't planned to take part in
Armchair BEA
until the penultimate day. I wasn't really sure if I could make the time commitment, since we have family over here and last weekend, we spent about 22 hours on the road. So, while I'm eager to get back to regular programming, I've realized how much I used to love taking part in such blogger events.
For recaps, these are what I posted:
I also have a
giveaway
going on which is going to end in a few hours. I'll announce the winner shortly.
Last Saturday, the husband and I went on yet another road trip, this time to New York. I love doing road trips and would probably do more of it, if it could be more affordable. This time, we weren't doing the trip for touristy reasons. Our parents were arriving in New York after a nearly-24 hour flight, and we decided to spare them another flight with all their bags and just pick them and drive back home. To have an idea of how much traveling you have to do to get between our homes here and in India, here's the picture:
3 hours to reach departure airport from home in India
4 hours at the airport before departure, doing all the fun airport activities such as check-in, security check, immigrations, customs, and waiting for the flight. Mind you, there are probably about 10 flights to the US all leaving at around the same time. So you probably get the picture of just how many other impatient people you are wrestling with to finish the proceedings.
About 23 hours flight including 3 hours layover somewhere in between. These flights usually arrive at big cities, in this case, New York.
Yay, now we are in the US!
Now another grueling 2 hours while the US officials make sure you have all the proper papers.
That's a total of 32 hours already, but hey, we are not home yet.
Since we drove, we reached home only 10 hours later, breaks included.
When the husband and I travel, we usually take another flight home, which adds about 5-7 hours depending on layovers.
So anywhere between 37 and 42 hours in all. Wow - when I put it like that, I don't feel like doing it anytime soon. But in the end, everyone's happy and excited and thrilled. That's really true only when we are going to India or our parents are coming here. The other direction flight generally ends up with us feeling forlorn.
Trip notes:
The number of tolls we had to pass through is ridiculous! One of them was somewhere in New York and the roads were horrendous. What the heck are we paying for?
Having coffee at IHOP at 5 am in the morning is like heaven. The poor waiter was a bit flummoxed when he realized that we only came for coffee and not to eat anything.
The husband drove all the way back, but occasionally in my half-awake, half-asleep state, I had this weird feeling that I was driving and that I was seeing cars where there were none and driving past red lights when I shouldn't. Super scary and totally freaked me out, enough to jolt me awake each time, that's all I will say.
What is the longest trip you ever made, road, flight, or otherwise?
Reading and other matters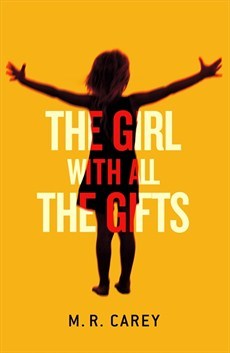 The husband is again traveling this week but this time, since we have a lot of people at home, I shouldn't feel too lonely from an empty home. That will be good certainly. On the reading front, all that blogging last week meant a lot less reading time. I did finish
The Joy Luck Club
audiobook (even though I didn't like it too much initially, by the end, it did get a little better). I'm now listening to Jo Nesbo's
The Leopard
. The husband and I also listened to the first half of
The Martian
during our road trip last week. We need to find a way to listen to the rest, but we love it so far! I also started reading
The Girl with all the Gifts
sometime last week - that's been great starting, then became a little ridiculous and is now again intriguing. So quite a lot of books going on but none of them international.